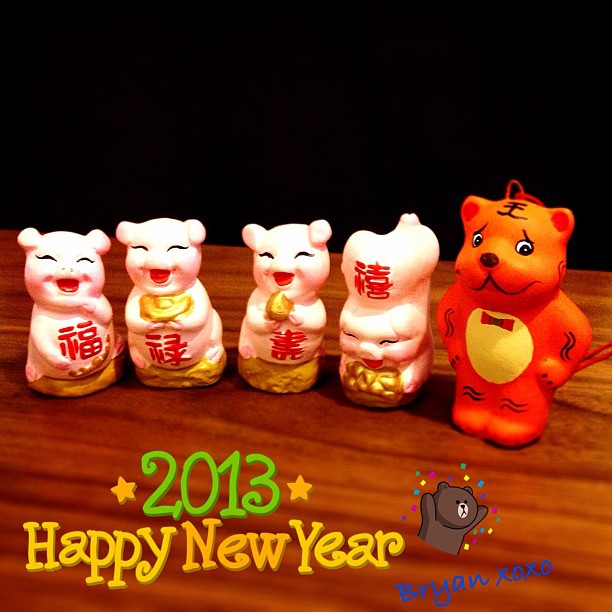 Farewell Grandma
On the Chinese New Year's Eve in January 2012, Grandma passed away at the age of 94. I got the phone call from my mother on the morning when I was in London. Grandma had been my angel for the past 38 years. Saying goodbye to her is heartbreaking. But I believe that she will never leave me. Somehow she will always be in my heart.
Welcoming Elsa
In December, my niece, Miss Elsa Liu, is born. It is certainly the greatest joy in our family this year. While I was in Taipei, 5 adults (my parents, my sister, my brother-in-law, and me) are busy serving her. She's still so little, sleeping most of the time. But watching her is never tiresome.
Travel
18 countries in 1 year: it's my record so far. Besides Taiwan and the Netherlands, the other 16 are: UK, Hungary, Spain, Indonesia, Germany, Greece, Belgium, France, Norway, Croatia, Montenegro, Bosnia & Herzegovina, Cambodia, Vietnam, Hong Kong and China.
Family Trips
To comfort my mother for the loss of grandma, together with my father, we have travelled to Bali, Indonesia in March (with my aunt); Sun Moon Lake, Taiwan in May; Bergen in Norway and Croatia (and Montenegro, passing Bosnia & Herzegovina) in September (also with my aunt). My parents even went to China twice in a month time in summer. And we also honored our pact with my cousins regarding Cambodia and Vietnam. It's been enjoyable and full of fun travelling with family. I guess we should be thankful for our Grandparents' efforts in the past to keep family close together.
My personal itineraries
In the end of 2011, I made a list of the places I wished to visit in 2012. And I've achieved 3 out of 5: Tianjin, Münich and Athens. I am very happy with the result. Grandparents' passing in these two years has been a wake up call. I realise that if I want to do something or go somewhere, I need to make an effort to make it happen. Travelling is actually one of the easy things. As the old cliché goes: time and tide waits for no man. Carpe diem! Carpe diem!
Beijing + Tianjin
It's a pact between my late Grandpa and me. I should have done this trip before he passed away in 2011. But I didn't. This trip was to visit his hometown, although everything has changed a lot in the past 90 years. But amazingly, the taste of food remains pretty much the same. It's so nostalgic having such a familiar taste of food wherever I go in these two cities. The Forbidden City and the Great Wall were also in Grandpa's old itineraries when he was young. I guess it's my way to salute him following his footsteps to these places.
Love Score
Love score remains 0. I thought my 2 crushes in the past year could have landed somewhere. But they didn't.
Work
Work is relatively stable. Although the change of ERP to Oracle has been time consuming throughout the whole year, it's inevitable anyway. But I have to say that my EQ at work has beenquite good. Maybe I am getting more sophisticated as the age grows too.
10 Years in the Netherlands
2012 marks my 10 years living in the Netherlands (12 years in Europe). Time flies. As a foreigner, I am actually proud of myself being able to live far away from home for all these years. Of course, I am also thankful, especially for those of my friends who have always been there for me.

Birthday Party
I am glad that some new friends thought that I were 28-32. This year, I held the first-ever birthday party at my apartment in Amsterdam. It was nice to see some good friends coming over. I really enjoyed it.

Friends
For those in the Netherlands, Taiwan, France, Germany, the United Kingdom, the United States, China, Australia, I appreciate and treasure your friendship. Although the geographical distance is probably not easy for us to cross to meet up from time to time, but on one hand, I am thankful for your continuous contact over the internet, and on the other hand, finding a chance to meet me whenever I am in the (or your) city.